It's the first of many for Tool, as members within the band held their first line of music clinics, demonstrating their songwriting process. The clinic was held in St. Paul, MN last Friday (May 11th), in which guitarist Adam Jones, drummer Danny Carey, and bassist Justin Chancellor explained their working partnership together, in addition to taking questions from attendees.
Throughout Tool's cataloged career, the band has made a point to write some of the most prolific and complex music around. With a new Tool album in the near horizon, nothing has changed in terms of letting off the gas pedal with the new lineup on songs. The band had even confirmed that each song on the new album will be over 10 minutes long.
The process of writing songs in Tool seems to be that of clockwork. Danny will lay down the drums, following by Justin laying down bass, with Adam's guitars coming after that, and finally Maynard's vocals laying on top. It's a systematic process that is not only simple on paper, but deep down, it is rather painstaking.
This is clearly been the case with band, since they haven't released a new album in over 10 years. With such a process taking up so much time, the band had wanted to try and make things are perfect as possible, adding more and more time to the mix, which in turn, added more and more time for fans to wait.
The band will hold more clinics in a variety of cities across the U.S., including Chicago, Indianapolis, Royal Oak, Columbus, Cleveland and Pittsburgh before finishing in Philadelphia on May 23. Ticket for these clinics start at $500, and are still available for purchase for those who wish to attend.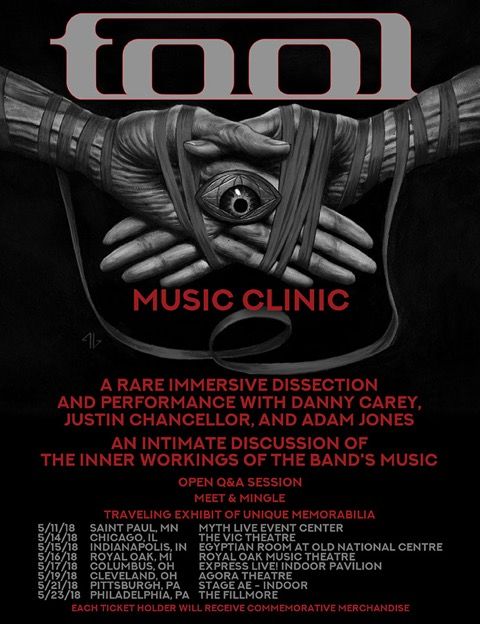 JT "Doc" Berry \m/
@doctoberberry